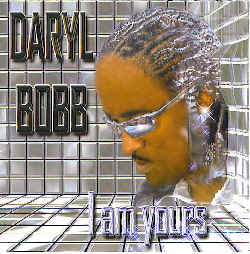 DARYL BOBB - I AM YOURS
$12.99 $7.99 On Sale!
0216

I AM YOURS by DARYL BOBB is the debut album by the versatile Dominica musician who has been recognized every Christmas as the voice of the Ruff and Reddy Band. Daryl starts off swinging with a catchy soca tune "I am Yours". The other 13 hot tracks, includes a calypso"Take One Day at a time" composed by Pat Aaron and a catchy slow rhythm "Just Be", and turns to the bouyon beat in "Shut Your Mouth". The tunes "Representing", "Ring ki ting ki ting", and "Gimme Music" all prove that Daryl can move a dancefloor with his heavy beat.
Daryl who is also Calypsonian Bobb, plays lead guitar, with accompaniment on keyboards by Cornel Philip,Clint Henderson and Bert Castonguay. Most of the songs were written and composed by Daryl Bobb. Daryl in the past has accompanied many of Dominica's major artistes including Ophelia and Gordon Henderson, to name a few.