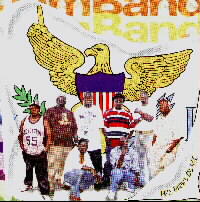 WE FROM DE VI - JAM BAND
$12.99 $7.99 On Sale!
0092

The Awesome Jamband returns with a "Likitang",Trampin","Sweet Talking","Party Mix" that will make your body move real smooth along with a "Finger Jam" and a "Leg Exercise". Those are some of the hot tracks from their 2004 album coming from the U.S. Virgin Islands. Other Jamband music tracks include VI,Soldiers,Kaiso and Bangalang.