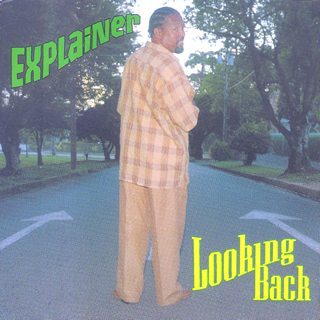 EXPLAINER - LOOKING BACK
$12.99 $5.99 On Sale!
0161

LOOKING BACK by EXPLAINER brings back the old King of Soca and veteran of such hits like LORRAINE,Rasta Chick,Nottinghill Mas, Wey Dey Say,Dey Say,Ras Mas and Horse which are all included on this CD. The new Soca monarch,Bunji Garlin joins Explainer in a new version of "Lorraine".
All songs composed by Winston Henry (Explainer)except #5 composed by Pelham Goddard and Winston Henry. All songs arranged by Junior "Ibo" Joseph.
Writes Terry Joseph,Entertainment Specialist of Trinidad Express.."On this CD,his 23rd album release, Explainer presents a compilation of highly-acclaimed vintage work and new releases,delivering with flawless integrity news from every sphere of our existence,incisive tales set against exciting rhythms and infectious melodies and fully explained in bell-clear voice by a master-storyteller".



TRACK LISTING
Broken
Celebration Time
Lorraine (Remake)..(Explainer and Bunji Garlin)
Ras Mas
Nothing Eh Wrong With Dat
Weh Dey Say
Kicksing in Parliament
Mas In Notting Hill
Somebody Is Always watching
Plain Talk
Rasta Chick
Dem Wey Dread
Horse
Free Base
Table Turning
Lorraine (Explainer)
CONTINUE SHOPPING-BACK TO SENSAY PAGE