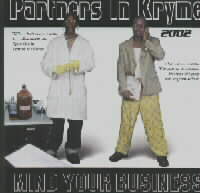 PARTNERS IN KRYME - MIND YOUR BUSINESS
$12.99 $10.99 On Sale!
0059

MIND YOUR BUSINESS by PARTNERS IN KRYME is a must addition to your bouyon collection of Dominica music. It features one of the original bouyon programmers, Maurice Aisles and Efex's Peter Walsh who have given a grest deal to this album. Tracks include the original mix "Mind your Business".