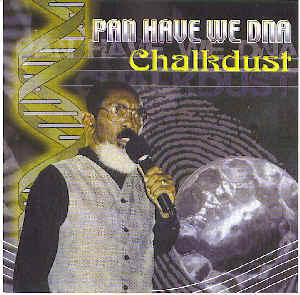 CHALKDUST - PAN HAVE WE DNA
$12.99 $4.99 On Sale!
0170

PAN HAVE WE DNA by CHALKDUST ia the latest album from THE 2005 CALYPSO MONARCH OF TRINIDAD AND TOBAGO,THE MIGHTY CHALKDUST. This album has current hits like "PAN HAVE WE DNA" and "I'M IN TOWN TOO LONG", "SONGS/HYMNS MY PARENTS SANG" And also hits from last year's DIMANCHE GRAS Calypso monarch finals like "TRINIDAD IN THE CEMETERY".School Teacher, Doctor Hollis Liverpool has tied THE MIGHTY SPARROW by winning the coveted monarch title seven times and is looking forward to winning the title again next year,surpassing Sparrow's record. The title tune is considered a "a pan song to melt other pan songs". Chalkie's social commentary is "art at its finest" writes a calypso enthusiast.