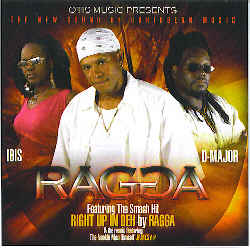 RAGGA (right up in dey) by RAGGA
$12.99 $7.99 On Sale!
0200

RAGGA with the smash hit "Right Up in Dey" is the new sound of Caribbean Soca presented by Otis Vidale. The album features a remix of "Right Up in Dey" featuring Jamesy P of "Nookie" fame. The trio also includes female vocalist,Ibis,vocalist D-Major and Otis himself. Other hot tracks include "Miss Lady","Utopia" and "Girl Cum Cry".