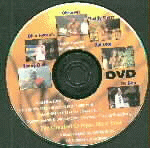 DVD - GREATEST CALYPSO SHOW EVER(Dominica Calypso 2003)
$16.99 $6.99 On Sale!
0071

The Greatest Calypso Show Ever captures Dominica's 2003 Carnival Calypso Showdown Live on DVD. It features King Observer, Daddy Chess, Diva Nyocah,Kid Dice,De Bob and Young Bull among others. The Show was videotaped by Marpin TV and mastered on DVD by MOKA Productions.