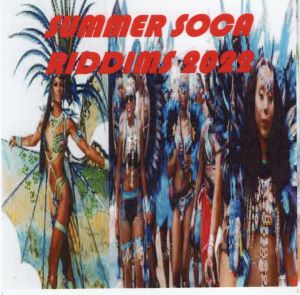 SOCA - SUMMER SOCA RIDDIMS 2022 VOL ONE - VARIOUS ARTISTES (KES, Problem Child,Sita, Nikita & Mikey Mercer,King Danskie,Wayne T, Nailah Blackman, DJ Jel mix, and more - 19 tracks)
$11.99 $7.99 On Sale!
0846

The Best Summer 2022 soca hits coming from St.Vincent, Antigua
and Barbados Cropover. Hits include Antigua's King Danskie'a "Get Up-Out -In -Down",
St. Vincent's Sita with "Vincy Badness" and Problem Child's "Under Vibes" and
Barbados' Nikita & Mikey's "Ready".
T&T's KES THE BAND also smooths you with "Jolene".
and Wayne T of "Doye Doye" fame is back with a jumpy "Mash Up-Mash Up"