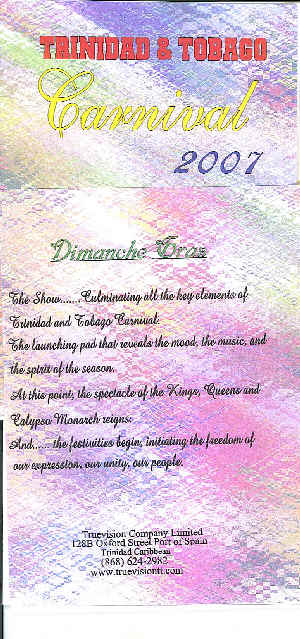 DVD - DIMANCHE GRAS 2007 TRINBAGO CALYPSO FINALS (double DVD)
$16.99 $9.99 On Sale!
0281

DVD-DIMANCHE GRAS 2007 CARNIVAL CALYPSO MONARCH FINALS IN TRINIDAD AND TOBAGO featuring the 2007 Calypso Monarch CRO CRO(Carry-on luggage),CRAZY,LUTA,DEFOSTO himself,SINGING SANDRA and others.
Special Guest Stars include SHADOW,CALYPSO ROSE,Junior Calypso Queen,TENEISHA WEEKES(Me School bag is too heavy) and LORD "Papa Bull" NELSON(Me lover)..
Don't miss the traditional,KING AND QUEEN OF THE BANDS competition
-DOUBLE DVDS for the price of ONE.