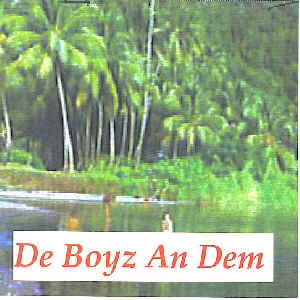 DE BOYZ AN DEM GREATEST HITS (featuring FITZROY AND P.HORSFORD)
$12.99 $8.99 On Sale!
0260

DE BOYZ AN DEM CD is a classic Caribbean CD originally released on vinyl in 1969 with the energetic rhythms of the sixties combo era that set the pace for the seventies' cadence and soca era..From the pulsating tunes of Hugh Masakela's "Doh Ray Me Fa So So" and Andre' Tanker's Lynna to Dominic Frontiere's Western' "Hang Em High" and The Meter's "Cissy Strut", the band exemplified the unique dance hall music that was played with a local latin-jazz-calypso beat.PHILLIP HORSFORD's rendition of Jimmy Webb's "Phoenix" and Bobby Hebb's "Sunny" keeps you in a relaxing mood.
The magic fingers of FITZROY WILLIAMS on keyboards,Gustave La Rocque on bass guitar, Patrick Pemberton on lead guitar and Marcel Cruickshank on drums, demonstrate the promising youthful talent of that combo era.
Philip,Patrick and Marcel would later join the Swingin Stars band,while Fitzroy moved on to the Gaylords and finally became an Exile One superstar in the 1970's. De Boyz An Dem along with the Gaylords Power Union and The Swingin Stars were the main dance bands in Dominica at the end of the 1960's.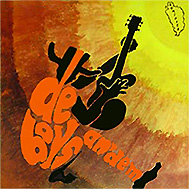 DE BOYZ AN DEM on vinyl in 1969
TRACK LISTING





Doh Ray Me La So So

By the Time I Get to Phoenix

Sunny

It's Your Love

Lynna

Hang Em High

True dem Love

Meditation

Lover's return

Cissy Strut








Keyboards,Organ, Vocals – Fitzroy Williams
Drums – Marcel Cruickshank
Guitar, Vocals – Patrick Pemberton
Vocals, Congas – Phillip Horsford
Management, Bass Guitar, Vocals – Gustav La Rocque
Engineer [Recording] – Max Serrao
Liner Notes – Jeff Charles
Photography By – Peter Green 





(CLICK)