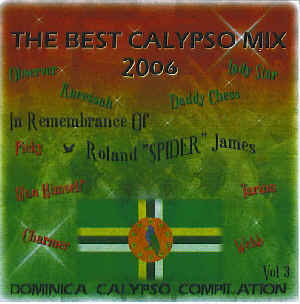 BEST(the) CALYPSO MIX 2006-DOMINICA CALYPSO COMPILATION
$12.00 $11.50 On Sale!
0219

THE BEST CALYPSO MIX 2006 by DOMINICA CALYPSO COMPILATION Vol 3 includes 12 of the hottest Calypso tracks from MAS DOMNIK 2006 CARNIVAL. Tracks include some the best well written calypsos like "RESURRECTION" by PICKY,"WON'T IT BE NICE" by LADY TARINA who place second after KING DICE. A special tribute is paid to the late Roland James, "The Spider" and is sung by Lady Star and composed by (pan/steelband player and composer)Alan John Baptiste. Others like "We go See" and "Defend Whitu Kubuli" by CARESSA,"Wretched" by "Observer" and "Back to Sing" by Daddy Chess are worth listening to.