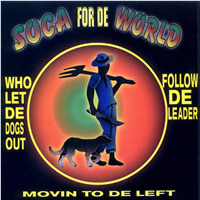 SOCA - SOCA FOR DE WORLD -VARIOUS ARTISTES
$12.99 $10.99 On Sale!
0138

SOCA FOR DE WORLD by VARIOUS ARTISTS is another one of the best collection of SOCA hits from the eighties and nineties."Who Let the Dogs Out","Dollar Wine","Follow the Leader", "Tiney Winey", "Teaser", "Ragga Ragga", "Rock it" and "Nani Wine" by now should be considered classics. This is another priceless addition to your collection.
TRACK LISTING
Who Let The Dogs Out{Anselm Douglas}
Follow De Leader{Nigel Lewis}
Movin To De Left{Nigel Lewis}
Ragga Ragga{Red Plastic Bag}
Nani Wine{Crazy}
Indian Soca{Colleen Grant}
Teaser
Dollar Wine
Love Being Me(Sugar Aloes}
Rock It{Merchant}
Lota La{Sonny Man}
Bus Conductor{Poser}
Bee's Melody{Kitchener}
MORE SOCA ALBUMS
CONTINUE SHOPPING