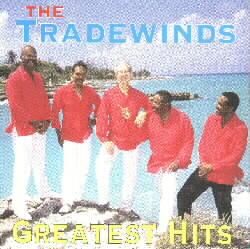 TRADEWINDS GREATEST HITS VOL 1(Honeymooning Couple,You Cyar Get)
$14.99 $10.99 On Sale!
0250

One of the most revered bands in the Caribbean formed in 1966,The Tradewinds have become identified with their witty and insightful creations about Caribbean life. This album contains some of their most enduring popular songs, including their legendary showpiece "Honeymooning Couple". Other hot tracks include "You Can't Get","Boyhood Days","Caribbean Man", "Copycats", "Mr Rooster","I Want To Be A Puppy", "Play De ting", and "Cricket in De Jungle".
This Collection,14 of their most loved songs, was recorded in Grand Cayman where the band has been based since 1982.




Band Members:


Dave Martins (Guyana) ..Guitars and vocals
Clive Rosteing(Trinidad)..Drums
Richard Terry(Cayman Islands)...Bass
Harry Cupid (Barbados)..Percussion and vocals
Jeff Japal (Grenada)...Keyboards






COLLECTIBLE ALBUMS








TRADEWINDS BACK HOME
TRADEWINDS GREATEST HITS VOLUME TWO


TRADEWINDS GREATEST HITS VOLUME THREE