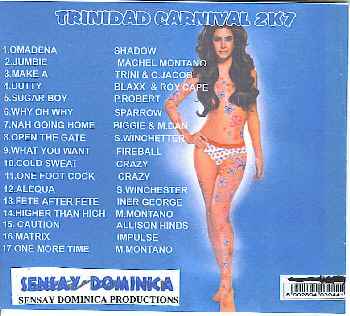 CARNIVAL TRINIDAD & TOBAGO 2K7 CD - VARIOUS ARTISTES
$12.99 $10.99 On Sale!
0283

TRINIDAD CARNIVAL 2K7 CD includes the best of the best of Soca and Calypso hits from Trinbago Carnival 2007.Among them are Shadow's Omadena,Machel's Jumbie,Crazy's Cold Sweat and One Foot Cock,Fireball's What I Want,Patrice's Sugar Boy,Iwer's Fete After Fete, Biggie Irie's Nah Goin home,Blaxx' Dutty, Alison Hinds'Caution and Sherwin Winchester's Open the Gate and many more. This is 2007 best Compilation so far of non-stop dancing.