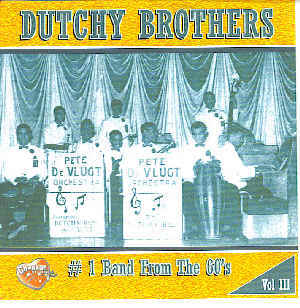 BEST OF THE DUTCHY BROTHERS VOL THREE - #1 BAND FROM THE 60'S
$13.99 $4.99 On Sale!
0417

BEST OF THE DUTCHY BROTHERS VOLUME THREE - #1 BAND FROM THE 60'S
This volume continues from where Volume One and Volume two left us, dancing of course.The band lead by Pete De Vlught and his Dutch Trini brothers continues to please all the fans and their children who grew up listening to the Latin Jazz Calypso sound around the globe. "girl from ipanema","te doy calabas","pan talent","tradicion de carnival","los sabrosones","la Campansita","Arroz Con Palito","river bank jump up","any number can play", are among the 24 favorites from the boys from South(San Fernando). If you like dancing the Waltz,the Mambo, Calypso Twist,the Parang and other crazys,then this is another good collection item...Back off yu shirt and dance!!