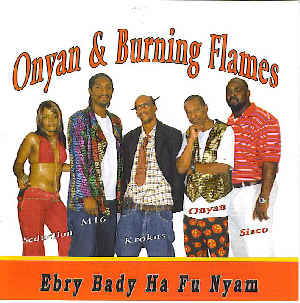 BURNING FLAMES - EBRY BADY HA FU NYAM featuring ONYAN
$12.99 $4.99 On Sale!
0251

EBRY BADY HA FU NYAM(Everybody Have To Eat) by ONYAN & BURNING FLAMES out of Antigua will have you jumping and will keep you in the party mood. This album was released in time for Antigua & Barbuda's Carnival 2006. Hot tracks included "I Man Ha Fu Nyam(Antiguan patois-I have to eat too)" and "Whine on Me".