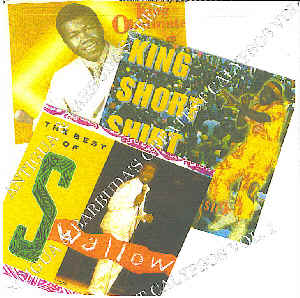 ANTIGUA & BARBUDA'S GREATEST CALYPSOS VOL.1
$12.99 $5.99 On Sale!
0178

ANTIGUA AND BARBUDA'S GREATEST CALYPSOS VOLUME ONE CD includes some of the best composed Calypsos from the Caribbean. Tracks include "Nobody Go Run Me", "Tourist Leggo" and "Push" by KING SHORT SHIRT,"Fire in de back seat","Subway Jam" and "Wine on Someting" by Swallow,"Hungry" and "Sugar Bowl" by King Obstinate among the great ones.


TRACK LISTING


1.PUSH - KING SHORT SHIRT
2.WHINE ON SOMETIN -KING SWALLOW
3.NOBADY GO RUN ME - KING SHORT SHIRT
4.HUNGRY - KING OBSTINATE
5.FIRE - KING OBSTINATE
6.FIRE IN DE BACKSEAT - KING SWALLOW
7.PEPPER SAUCE - KING SWALLOW
8.SUGAR BOWL - KING OBSTINATE
9.JUMBIE - KING OBSTINATE
10.SATAN COMING DOWN - KING SWALLOW
11.DON'T STOP DE PARTY - KING SWALLOW
12. TOURIST LEGGO - KING SHORT SHIRT
13. SUBWAY JAM - KING SWALLOW