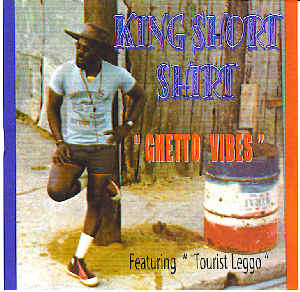 KING SHORT SHIRT - GHETTO VIBES
$12.99 $10.99 On Sale!
0182

GHETTO VIBES by KING SHORT SHIRT is one the best Calypso albums by one of the best Calypso Giants from Antigua. The classic album portrays life vividly in the 70's that carried on into the eighties with strong melodies.Backed by Art De Coteau and his Trinidad Orchestra, Short Shirt explodes with "Nobody Go Run Me", "Tourist Leggo","Power and Authority","When" and a tribute to cricket legend,"Vivian Richards" among other hot tracks.



TRACK LISTING


1.TOURIST LEGGO (McLean Emanuel)
2.VIVIAN RICHARDS (McLean Emanuel)
3.HAND OFF HAEMONITES (McLean Emanuel)
4.NO PROMISES (McLean Emanuel) 
5.POWER & AUTHORITY (McLean Emanuel)
6.NOBODY GO RUN ME (McLean Emanuel)
7.INSPITE OF ALL (McLean Emanuel)
8.WHEN (McLean Emanuel)
9.FANTASY (McLean Emanuel)
10. Carnival '76 (McLean Emanuel)
 

Music Composed by King Short Shirt(M.Emanuel)
and Arranged by Art DeCoteau