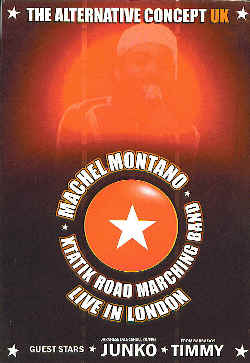 DVD - MACHEL MONTANO AND THE XTATIK ROAD MARCHING BAND-LIVE IN LONDON,UK
$16.99 $6.99 On Sale!
0195

MACHEL MONTANO & THE XTATIK ROAD MARCHING BAND LIVE IN CONCERT IN LONDON is the ALTERNATIVE CONCEPT IN THE UK. This is a hot and spanking DVD with Xtatik guests, TIMMY from Barbados and Japanese Dancehall Queen,JUNKO.The sound and the dazzling show add excitement to the music that includes many hot tracks from the Xtatik Parade album.
Among them are "Craziness","Bubblenut","Carnival" and classics like "Fireman","Big Truck","Walk a Mile","Footsteps" and many more.
OTHER FEATURES include (*)a separate video of the song "YOU" as now heard on the album "THE XTATIK EXPERIENCE" and also (*)a SOUND CHECK preview session.
So move de morris chair and back off yu shirt.