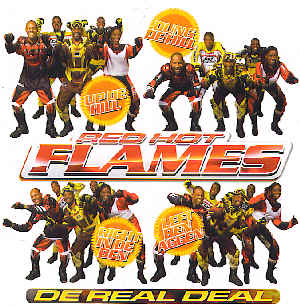 RED HOT FLAMES - DE REAL DEAL
$12.99 $10.99 On Sale!
0248

DE REAL DEAL BY THE RED HOT FLAMES is a red hot album that unleashes real fury on the scene for CARNIVAL 2006 in Antigua. CLARENCE "OUNGKU" EDWARDS who composed most of the "Flames" songs left the original "BURNING FLAMES" IN 2005 and formed this new band "THE RED HOT FLAMES". Rene "Foxx" Watkins, the original "Flames" drummer was added to the group. Hot tracks include "De Real Deal","Quad Ride","Trouble","Out ah Control" with Esther Dyer, "Encendiendo Engine", a revised version of Swingin Engine in Spanish and English and "Until We Meet Again"(a tribute to JAM BAND'S "Daddy Friday).