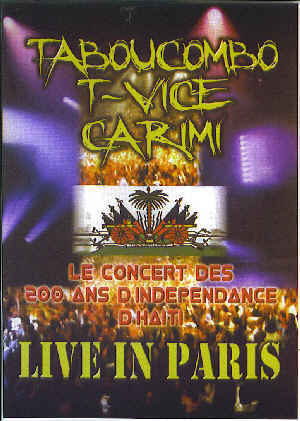 DVD - LIVE IN PARIS -TABOU COMBO,T- VICE ,CARIMI
$16.99 $10.99 On Sale!
0269

DVD-LIVE IN PARIS by T-VICE,CARIMI AND TABOU COMBO, three of the best kompa and cadence bands from Haiti is a must see for all Creole, Kreyol or Kweyol fans alike. Le concert des 200 ans D'Independance D'Haiti, (a celebration of Haiti's 200 years Independence from France) help to focus on the first Black Republic of the Western Hemisphere. Very good Sound and Audio/Visual effects from the Zenith Centre in Paris.
Songs include "Gason Macoumer","Timidite" , "A-Zero" and more from T-Vice including an exciting guest appearance by the older Martino of "Top Vice" fame. Hot songs by Carimi include "Chov", "Apiye","Ayiti Bang Bang" and more.
Tabou Combo closes with the usual "Tu as Volay" anthem, "Mabouya","New York City" and others.
Great Burlesque display dancing on stage with T-Vice are among the highlights.
Also included are bonus videos with Carimi and T-Vice.
If you've been to any of the World Creole Music Festivals in Dominica you will love this DVD.Great Entertainment!!